Firelight Heritage Farm Publishing is based in the United States.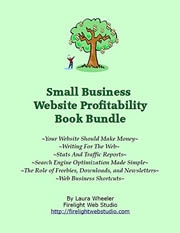 Small Business Website Profitability Book Bundle eBook by Laura Wheeler
Small Business Website Profitability Book Bundle: A Collection of Website Instructional Classics From Firelight Web Studio
Also available on Amazon.com for Kindle - Small Business Website Profitability Bundle for Kindle.
Classic website instructional books by Laura from Firelight Web Studio. This collection includes updated versions of the following books: Your Website Should Make Money, Writing For The Web, Stats and Traffic Reports, Search Engine Optimization Made Simple, The Role Of Freebies Downloads and Newsletters, and Web Business Shortcuts. This collection of books is all about earning more successfully. Laura is a veteran web developer, who specialized in websites for small businesses. Under her leadership, her company rewrote corporate website rules, and adapted them for greater success with small businesses. She analyzed results from hundreds of websites, and devised guidelines that worked for low budget small businesses. This book takes you through many skills and strategies for struggling small business websites, and teaches you skills and tactics for optimizing your site for greater earnings. Written by Laura Wheeler.
Powered by Sheer Awesomeness