Firelight Heritage Farm Publishing is based in the United States.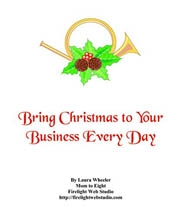 Bring Christmas To Your Business Everyday
The classic book written for Christmas In July, for Women Business Owners.
A quick little handbook on ways to bring excitement and fun like Christimas to your business every day. Each suggestion is flexible and applicable to any business type (well, let's say LEGAL business type, if you want to run an ILLEGAL business this book probably isn't going to help you!). What is it that makes Christmas so special? Whatever it is, this book suggests ways to make it part of an appealing business and marketing plan every day of the year. Written by Laura Wheeler.
Powered by Sheer Awesomeness