Firelight Heritage Farm Publishing is based in the United States.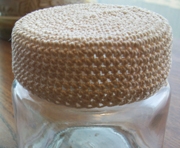 Fermenta Cap Soft Crochet Pickling Cap Pattern Sheet eBooklet by Laura Wheeler
Breathable jar cap for lactofermentation.
Pattern for Fermenta Cap crocheted pickling cap for Mason Jars. Pattern for Standard size, and Wide Mouth size. Can be easily increased in size to fit gallon jars, or other containers, or decreased in size to fit apple cider jugs.
No elastic, just 100% cotton thread design. Keeps insects and pests out of your ferments, while letting air circulate. Perfect for sourdough, kefir, or naturally fermented pickles.
This pickling cap sells well at Craft Fairs and Food Preparation Fairs.
Instant download.
Copyright Terms: You may use this for your own use. You may NOT print it and share it with other people. You may make and sell this item, but you may NOT call it by our tradename (Fermenta Cap).
Written by Laura Wheeler.
Powered by Sheer Awesomeness