Firelight Heritage Farm Publishing is based in the United States.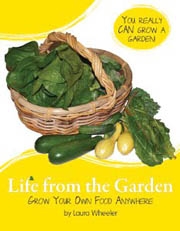 Life From The Garden eBook by Laura Wheeler
Life From The Garden: Grow Your Own Food Anywhere
This ebook is now available for immediate download! After your purchase is confirmed, you will be sent a confirmation email. Click on the order number link to get to the download page.
We think everyone should grow a garden, and we know that anyone can, no matter where they live, or how cramped their circumstances. This is not a comprehensive gardening book, rather, just an encouraging book that gives you ideas for saving money, getting more out of the garden, fitting gardens into small spaces (even a kitchen counter or window sill), and to cut the work load down to a manageable level. Lots of practical, tried and tested tips to help you get more out of your garden than you put into it. Written by Laura Wheeler.
Chapter List:
The Garden of Life
Gardening Anywhere
It's Gotta Be Cheap
Selecting for Circumstances
Sprouting
Wheatgrass
Indoor Herbs
Balcony and Porch Pots
Edible Landscaping
Small Yard Gardening
Intensive Gardening
Winter Gardening
Greenhouse Gardening
Complimentary Animals
Tossed Salad
 Get your garden on!
Powered by Sheer Awesomeness