Firelight Heritage Farm Publishing is based in the United States.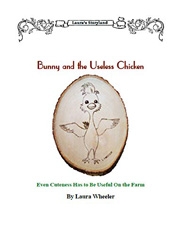 Bunny And The Useless Chicken
Bunny And The Useless Chicken: Even Cuteness Has To Be Useful On The Farm
A contemporary home-farm story featuring a little girl, and a chicken she names Chickie Boo. Mama says the chicken has to be useful, and nobody is quite certain whether Chickie Boo will pass the test or not. This book does deal frankly with issues of culling and butchering chickens, but does not describe the process. Written by Laura Wheeler.
Powered by Sheer Awesomeness