Firelight Heritage Farm Publishing is based in the United States.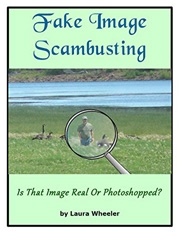 Fake Image Scambusting eBook by Laura Wheeler
Fake Image Scambusting: Is That Image Real Or Photoshopped?
Also available on Amazon.com for Kindle - Fake Image Scambusting Kindle Version.
Nationally recognized Webmaster and long time small business scambuster, Laura Wheeler puts her expertise into this book on how to recognize a faked image from a real one. The book contains 28 chapters, each of which covers a detection skill. Extensive coverage of the technical side of detecting altered images, staged images, and created images. This is not a LONG book, but it does require that the reader have, or be willing to develop, an understanding of image terms and technical concepts. The book does contain a short Glossary of Terms to facilitate better understanding. Written by Laura Wheeler.
Powered by Sheer Awesomeness