Firelight Heritage Farm Publishing is based in the United States.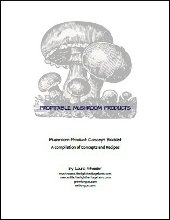 Profitable Mushroom Products eBook by Laura Wheeler
Profitable Mushroom Products: Mushroom Product Concept Booklet -
A Compilation of Concepts and Product Instructions for Small Mushroom Producers
An enlightening little book that lists 18 different mushroom products that you can sell, and how to do it.

What mushroom products can you grow or make and sell?
How do you make them?
What makes them sell well?
How do you market them?

Fresh new ideas for trending products that will sell very well in the economy and society we live within. Hot new mushroom snacks, terrific seasoning ideas, instructions for mushroom powder and even mushroom firestarters (really!). Sources for containers and labels to help your products sell are listed. Typical products that you expect also - grow kits, dried mushrooms, fresh mushrooms and what makes them sell well. Make it in the kitchen, or just grow it on the farm (and a mushroom farm doesn't have to be a big farm!).

We'll not only tell you what sells, but what doesn't, and why, and how to make YOUR items more desirable than your competitors at very little extra expense. We'll tell you how to get started on a shoestring, and how to keep from sinking money into something and losing it all.

A little book packed with great information to get your mushroom business steamed up and ready to roll!

We developed these concepts, and then decided not to do them. It isn't because they won't work, it is because we needed our business to be focused on a single set of products, and we decided to focus on supplying other growers. All of the other product ideas that we decided not to do (and some that we DID decide to do), are listed in here.

No fear that you'll buy the same ideas that everyone else buys and be competing with other people who bought the book. This book is written with just enough details for you to know how to do it, but it leaves out the specific choices that make the product unique. You get to make those choices, so your business will be completely original, and so will your products! Each person who reads it will come away with a little different idea about just how to make their own products.

Our writer is a 12 year veteran of the Web Development, Online Marketing, and Small Business Startup trenches. She knows how to assess a potential business idea and predict success potentials. All of these concepts have been well-planned, well researched, and have excellent growth potentials. Written by Laura Wheeler.
Powered by Sheer Awesomeness