Firelight Heritage Farm Publishing is based in the United States.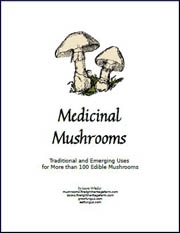 Medicinal Mushrooms - eBook by Laura Wheeler
Medicinal Mushrooms - Traditional and Emerging Uses for Edible Mushrooms eBook
Instantly downloadable eBook

This book is available for Kindle on Amazon.
Medicinal Mushrooms - Traditional and Emerging Uses for More than 100 Edible Mushrooms
Strictly edible mushrooms (we do not class psychoactive mushrooms as edible mushrooms). More than 100 mushrooms that have been used as food and medicine throughout the world. Possible benefits, recent discoveries, and common assumptions.
Useful for people who may be researching medicinal mushroom potentials, and for those who are considering selling mushrooms for health benefits. This is not a comprehensive compilation of every possible medicinal mushroom or every possible use. There cannot be such a thing, because verifiable information is difficult to obtain, and there is always a good deal of presumption in any natural health information. The author has compiled a listing of over 100 edible mushrooms and has listed those potential benefits which seemed the most believable and reasonable. This is a good place to start with medicinal mushroom research because it lists so many in one place. Contains reasonable cautions about likely potential side effects for particular circumstances.
This book also contains extensive warnings about proceeding with caution and at your own risk. No one can ever assure you of the safety of consuming mushrooms for any purpose. The author's philosophy is one of incorporating a variety of mushrooms into a healthy diet for best benefit.
Classics like Reishi and Maitake are only the beginning of the mushrooms listed. Many species of Agaricus, Lentinus, Laccaria, Lactarius, Russula, Pleurotus, and many more. Edible mushrooms, both common and rare, are included in the extensive listing.
Broadly researched, and written in plain English, with references for scientific names for all of the species listed.
Written by Laura Wheeler.
NOTE: This book is available on Amazon.com for Kindle, for a lower price. The version of the book sold HERE, is printable. The Kindle version is not.
Powered by Sheer Awesomeness