Firelight Heritage Farm Publishing is based in the United States.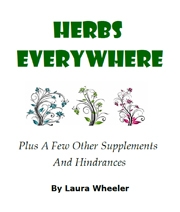 Herbs Everywhere eBook by Laura Wheeler
Herbs and Health: Plus A Few Other Supplements And Hindrances - 1st Edition
Also available on Amazon.com for Kindle - Herbs Everywhere for Kindle.
Laura's Herb List in Book Format. All the stuff that grows all around you, that helps you treat yourself at home. This is NOT an Herbal Pharmacy book, this is a listing of Edible Medicinal Herbs, another listing of Strictly Medicinal Herbs, and a listing of a few Medicinal Mushrooms. Most are things you can find in your garden or foraged wild, and some you may prefer to forage at the local Wal-Mart or Health Food Store. Also has information on treating Strep at home (PLEASE do not think this is a preferred option, it is a LAST RESORT). Quick reference information on making Teas, Tinctures, Syrups, Extracts, Cordials, Vinegars, and other preparations. All kinds of things you never knew could help heal your body. Written by Laura Wheeler.
NOTE: This book is an ongoing work. I just HATE that you may buy it and then I may update it. So if I do, it will be listed here, and each time I do, I will advance the Edition in the description. If you see that I have an edition that is higher than the one you own, you may request a free copy of the new edition. I WILL ask you that you keep only ONE copy, and that you do not give away copies of this book (not even the old edition), especially if I have given you a new free edition.
Powered by Sheer Awesomeness