Firelight Heritage Farm Publishing is based in the United States.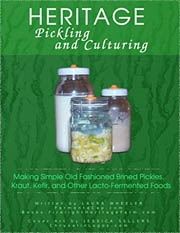 Heritage Pickling and Culturing eBook by Laura Wheeler
Heritage Pickling and Culturing: Making Simple Old Fashioned Brined Pickles, Kraut, Kefir and Other Lacto-Fermented Foods
A quick little book on making a few basic lacto-fermented foods. The World's Best Dill Pickles, The Best Kraut Ever, as well as Kefir, Sourdough, Pickled Veggies, and other pickled and cultured foods. Fermenting Myths are exposed, and the author even has a chapter on fermented animal feed. This book also addresses the alcohol content of some fermented beverages, with guidelines for kid safety. Written by the inventor of the Fermenta Cap lacto-fermentation system, the instructions cover many ways of creating fermented foods, regardless of the methods you use. Written by Laura Wheeler.
Powered by Sheer Awesomeness