Firelight Heritage Farm Publishing is based in the United States.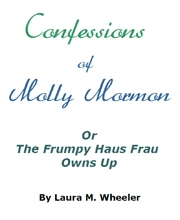 Confessions Of Molly Mormon eBook by Laura Wheeler
Confessions Of Molly Mormon: Or The Frumpy Haus Frau Owns Up
Anecdotes, Observations, and life stories about the life of the Author, Laura Wheeler. Described one way, she is the enviable, trouble free Molly Mormon, who just Gets It Right. Described another way, she really is the Frumpy Haus Frau, and she's just nobody special either way. But God still uses her, helps her grow, and helps her feel loved. It's an oddball book, written 20 years before it's publishing date. Written by Laura Wheeler.
Powered by Sheer Awesomeness