Firelight Heritage Farm Publishing is based in the United States.

Our Cart is experiencing some problems, please contact us if you are unable to purchase.
Home
Why make gardening or raising animals harder than it has to be?
If you want to go back in time a little, it isn't as easy as it sounds. Just going back to the days when you produce even SOME of your own food is tough, because it can be difficult to find sources for how things used to be done (before commerce and the government made it too expensive), and even harder to find ways to adapt lost skills and methods to the realities of modern life.
Kevin and Laura Wheeler are making new discoveries every day, and Laura is now sharing what she is learning, in both books and instructional manuals.
Choose from a range of helpful books, on unexpected topics to help you be more self-sufficient.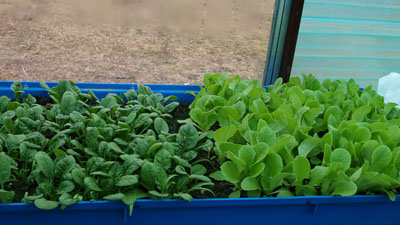 Spinach and lettuce growing in the greenhouse in December in Oklahoma. We've already harvested several salads of baby lettuce and baby spinach from this patch. Tasty and fresh, and packed with all the nutrients that Nature intended.