Firelight Heritage Farm Publishing is based in the United States.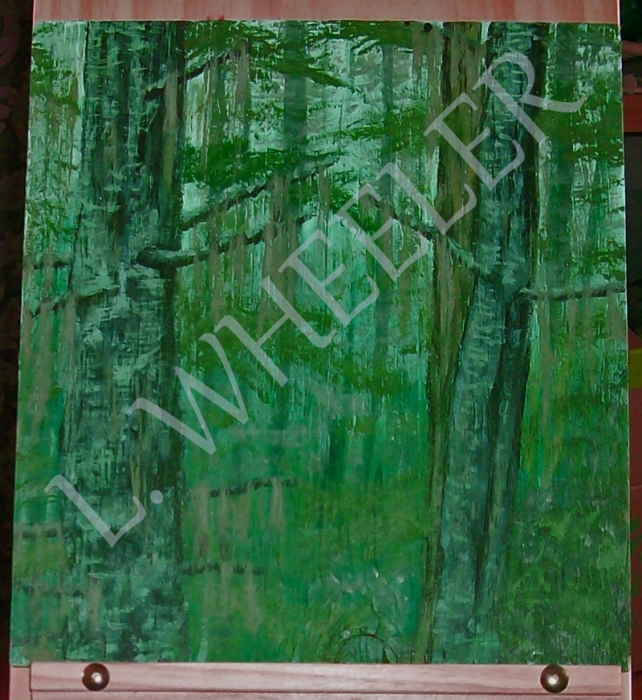 Through The Woods Acrylic Painting On Weathered Wood by Laura Wheeler
Through The Woods ORIGINAL WORK.
NOTE! Images of Laura's Artwork are NOT accurate for color!

10.5X11.75 Acrylic on 7/16 WEATHERED Plywood Board - Original is UNFRAMED with a hanger on the back. Prints are UNFRAMED.
IMPORTANT!!! This piece is done on plywood that is WEATHERED, and has heavy vertical graining to it. From ONE direction, the painting looks smooth, from the other direction it looks lined and grained. It is either annoying, or a really interesting effect.
Deep woods with mossy oldgrowth trees. White firs, in fact. A difficult work for Laura, due to the weathering of the boards, and the depth of the woods. This does not represent the cool forests for her, it represents the woods she grew up in, and some of the time she spent logging with her father.
The original colors are deeper, with more color over the light coming through the trees. It is DEEP woods.
$200 (domestic shipping included)
Through The Woods is available for "Of a Type" Assembly Line Production for Variant Works (25% wholesale discount), or Identical Variant Works (35% wholesale discount). Minimum order of 4 (no mix and match) required. Turnaround time is 10 days AFTER payment is verified, plus ONE additional day for each additional batch (counted as groups of 4) ordered in a single order.
Signed and Unsigned Prints Available. Batch orders only, price negotiable.
Price Calculation: 123 sq. in. X 0.95 PLUS 50% Detail Upgrade, PLUS $25 Shipping
Powered by Sheer Awesomeness