Firelight Heritage Farm Publishing is based in the United States.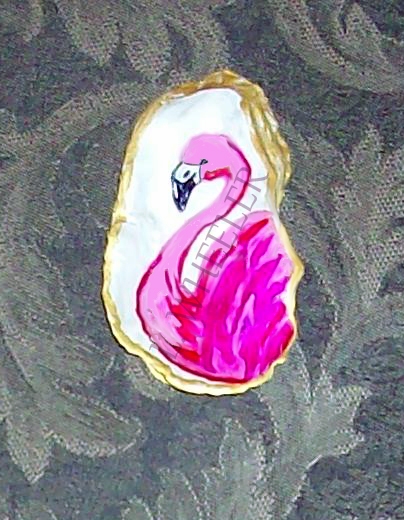 No Yo-Yo Acrylic and Felt Pen Painting On Oystershell by Laura Wheeler
NOTE! Images of Laura's Artwork are NOT accurate for color!

3.5" Oystershell Painted in Felt Pen and Metallic Acrylic.
Shining White craft grade seashell with Yellow Gold edging, and a tri-toned Pink Flamingo posed on the front. Back is painted in Yellow Gold, with Silver accents. The photo does NOT show this piece well, it made it kinda choppy, and the original is much smoother and neater.
The photo has a more true to Flamingo pink color with less purple and more peachy tones.
$44 (domestic shipping included)
No Yo-Yo is available for "Of a Type" Assembly Line Production for Variant Works, Not Identical Works or Identical Variant Works. Minimum order of 4 (no mix and match) required. Turnaround time is 1 week AFTER payment is verified, plus ONE additional day for each additional batch (counted as groups of 4) ordered in a single order.
Price Calculation: 7 sq in X 2.45 + X 0.5 Detail Upgrade + 0.5 X3 Shell, + $10 Shipping and $7 Packaging
Powered by Sheer Awesomeness